Have you invested plenty but still struggle to get adoption and ROI on your CRM?
You don't have to settle for an underperforming CRM. Use this guide to Identify the issues, detail a path forward and reconstitute your project with a CEO for CRM.
If you are of the 80% who are dissatisfied with your CRM performance, ask these questions. I'll bet the reason is here.
Did you conduct a proper audit of needs and requirements?
Did you interview or get the right stakeholders involved early in the project?
Did you have a detailed written implementation roadmap?
Did you have the right project management team in place?
Was CRM positioned as sales-driven (vs. IT) project?
Did you account for all the different data governance and hierarchy with accounts, divisions, branches, vendors, product categories, etc.?
Did you account for product taxonomy in CRM for ERP integration?
Are your dashboards content rich, action-driven or relevant to each role?
Did you spend enough time teaching the VAR your business?
Answering no to just a few of these might be the reason you're not getting the internal adoption you expected.
The question is: Have you identified your "CEO for CRM"?
The role of the CEO for CRM is perhaps the most important for successful implementation and user adoption. You can either have an internal CEO for CRM or bring in one from the outside as a partner or wingman.
Key role requirements:
Experience using CRM system with positive results.
A true believer in CRM and the value it brings to a team when implemented properly.
A good listener and motivator (will have to change behavior and culture).
Respective sales leader with the power to make changes.
Understands the processes from every role (inside/outside sales, product specialist, marketing, service, management) and how to work as a team.
Good management, presentation and organization skills.
Has the bandwidth to spend the time needed for success.
IT savvy but does not need to be an IT expert. Must understand how CRM works with other systems.
The CEO for CRM is ultimately responsible for the success of the CRM project. The buck stops with this role. To ensure success, there are 3 pillars that need to be managed.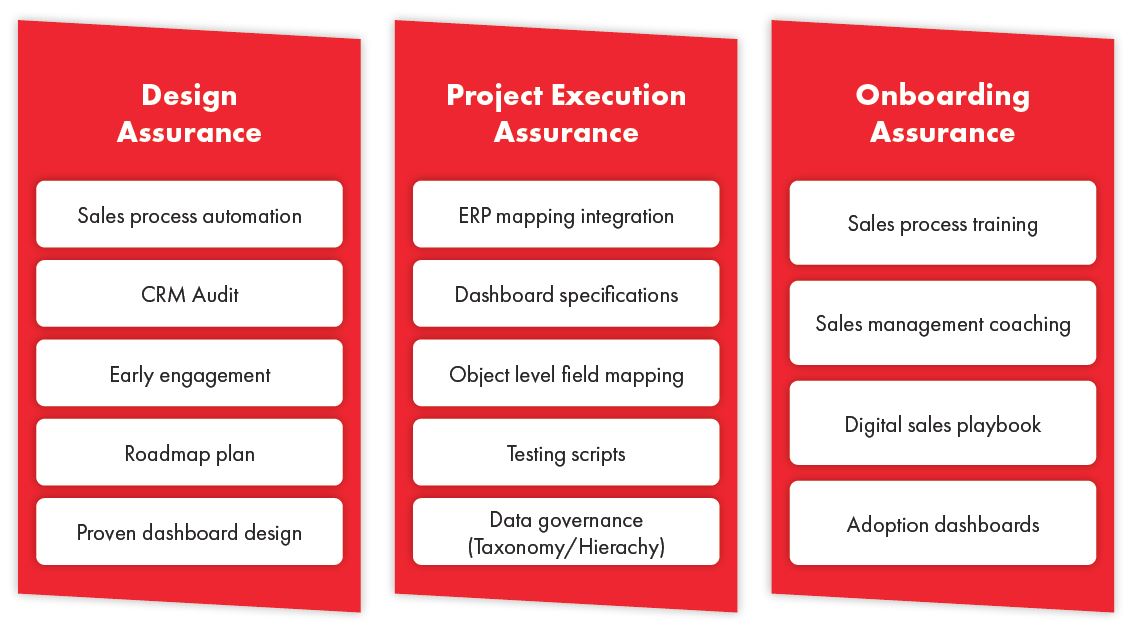 Getting full adoption and ROI from CRM is about process not just technology. Most companies have processes and visibility at the back end of the sales cycle for order processing, inventory tracking and more. However, most lack the processes and visibility for the front-end, sales-generating portion of their businesses, which is critical for growth. Using proven methodologies, processes and tools, companies can avoid these pitfalls by concentrating on three main competencies:
Design
Project Execution
Onboarding
In this post, we will discuss Design and Project Engineering. In Part 2, we will discuss we will address Onboarding.
CRM Design
Getting the design right upfront is critical to achieving your business objectives with a CRM implementation. Therefore, begin with a detailed CRM Audit focused on sales process automation and optimization. Interview each stakeholder to capture the methodologies and processes they are accountable to today and the ones they may follow in the future.
In this stage processes are baselined, and performance gaps are documented. Functional dashboards are specified to capture KPI and any other critical benchmark data. The data presents a cost-benefit analysis that concludes with a well-documented roadmap including a logical phased-in plan for complete and easy adoption.
CRM Project Execution
Most businesses lack the necessary skillset in-house to bridge the core groups. CRM implementation teams try to function effectively as an Architect while implementing the project. This is the area where a CRM CEO can navigate the project and keep it focused and on track.
This stage is critical to data parsing for the business hierarchy accommodating all entities like PCAT, BUs, division and major accounts, parent/child relationships, team selling groups, etc. At this point testing scripts are executed proving connections and functionality between CPQ quotation systems and other bolt-ons with the ERP.
Implementing a CRM is a major project requiring close cooperation between IT, sales and marketing. It needs strong leadership. If it's a part-time task, many of the critical components are missed or not well thought out and may lead to failure. If this is the case, consider retaining a CEO for your CRM.
Part 2: CRM Onboarding
CRM implementations and adoption rates for outside salespeople are extremely low. In Part 2, we will focus on the third pillar of success: Onboarding. We will look at user level adoption, dashboards and digital playbooks, and discuss how to fix it. We will look at how these tools become an agent of change for the organization sending satisfaction and useability scores soaring.
Take a critical look at the Design, Execution and Onboarding pillars. You may require a CEO for CRM.
Sales Process360 is a consulting organization dedicated to achieving CRM optimization. With many implementations, SP360 has the experience and the tools to assure a successful project.
Brian Gardner has over 25 years of experience as a CEO for CRM specializing in the industrial automation market segment. His book ROI from CRM lays out the pitfalls and requirements of a successful CRM project. Get a free copy. Just send a request to [email protected].