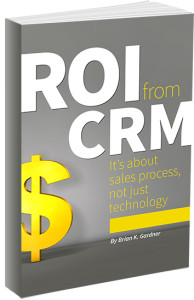 Yes, it is possible to get ROI from CRM.
SalesProcess360 Founder Brian Gardner taps his decades of industrial sales experience to provide simple yet effective strategies to get the most from customer relationship management. In this book, learn to approach CRM as a system for leveraging knowledge throughout your business, and gain an edge with a revamped sales process and engaged team.
About ROI from CRM

Learn how to approach CRM as a system for sharing and leveraging data and knowledge throughout your business, and gain a competitive edge in the market with a revamped sales process and an engaged team.
This book will provide valuable insight for companies that are looking to implement CRM for the first time, as well as companies with CRM in place that may want to course-correct.
With this book, you'll learn:
Common reasons that CRM fails – and how you can avoid them
Why CRM should be viewed as a revenue generator, not a cost
Why limiting CRM to outside sales will cause you to miss out on half its value
How to identify and fill gaps in your business using the Sales Process Review and the CRM Roadmap Matrix
How to break old habits and get your team on-board with CRM
The most critical time in the pursuit of sales is between the opportunity and quote stages, or between the front and back ends of the sales cycle. This book will give you the tools you need to successfully manage the sales process from lead to close with CRM.
Testimonials
"With this book and his system, Brian Gardner brings his unique talent for making the complex simple. He has the experience, with family business, in the world of industrial sales professionals and a full set of practical steps that will benefit all involved in their quest for winning in sales!"
– Mario Franceschini-Porrata, MRF Inc.
"Great book! As a sales manager, I read the book cover to cover without setting it down!"
– Paul Koehler, vice president-sales manager, JCI Industries
"Brian is a dynamic presenter who really knows what he is talking about. If you are a distributor, representative or manufacturer in the industrial equipment sector, you will benefit greatly from Brian's insights on sales management and customer information systems optimization."
– Joe Incontri, Krohne Inc.
"Brian has always been a passionate yet practical evangelist for sales process and focusing on the front end of the sales cycle. What he teaches and coaches is so relevant to any industrial manufacturer, distributor or rep firm. What I really love about Brian is he knows that the behavior and discipline of the sales team is what is important – technology such as CRM merely enhances good fundamentals. He also knows how to get salespeople to adopt new methods – because he's been there himself. Brian is refreshing because he is so real – his methods are based on what he has proven to be workable and feasible – not a lot of theory and concepts. And he really knows how to pursue large, complex sales opportunities. Brian's enthusiasm and deep experience allow him to motivate salespeople because he understands the real challenges of changing their behavior and adopting new habits. Brian's ideas work because they help the salesperson, which of course helps the sales management."
– Reed Stith, industrial growth expert and former manufacturing executive
"I've been hoping that Brian would put his vast experience as sales process guru in a book form ever since he and I cofounded Selltis. That dream has come true and the world is richer for it. First through Selltis, then through SalesProcess360, sales professionals have benefited from Brian's wisdom for almost two decades. Now they have a volume that speaks of his passion and belief in applying technology and sound sales practices to improving their sales processes. Thank you, Brian!"
– Mario Igrec, co-founder, Selltis
"I first met Brian Gardner while I was working for his father at Breard-Gardner Inc. Brian, Michael Johnson and I were all promoted to vice-president positions. In our new roles, we all contributed to sales management, and Brian took a particular interest in understanding the sales process and how it could be improved. We all knew that tracking opportunities early generated better results, but Brian wanted to develop a process by which we could measure these results. What started as a handwritten form documenting sales opportunities soon migrated into a spreadsheet, and from there, what eventually became Selltis. At first we were just tracking opportunities, but Brian wanted to track the entire sales process and has now made a successful career of teaching others how to do the same."
– Danny Wedge, John H. Carter Company
Chapters
Introduction
1 – It's About Process, Not Just Technology
2 – The SalesProcess360 CRM Audit
3 – A Revenue Generator, Not a Cost
4 – Why CRM Fails
5 – The Front End of the Sales Process
6 – What's Your Leading Indicator?
7 – Where to Focus for Maximum ROI
8 – Training on the Why, Not Just the How
9 – Choosing a Vendor
10 – Your Next Steps
11 – Conclusion