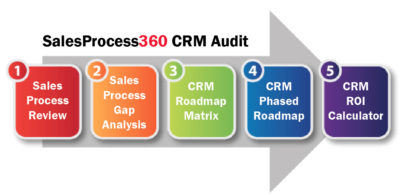 Are your processes driving how you use CRM? The SalesProcess360 CRM Audit is a systematic approach that will help you get ROI from CRM.
The SalesProcess360 CRM Audit was developed out of a need we found while working with clients early in their CRM evaluations. They'd provide their specification lists, which were typically just a long list of features. The list would never include processes they wanted to improve using CRM.
The SalesProcess360 CRM Audit will help you identify gaps in your sales processes and what it will take to fill those gaps. The result: a clearly defined plan for ROI from CRM based on your company's true needs.
Schedule a free phone consultation, where we'll discuss high-level gaps you may have, what to consider for CRM and sales process success, and ROI considerations.

Download this CRM Audit brochure to learn more about each step of the process.
---

"SalesProcess360's CRM Audit program was very worthwhile for us. We gathered a sampling of employees from various departments within our company, and spent a solid day and a half with Brian and his staff. They helped us to identify gaps in our processes and define a road map to move forward. As we move towards our CRM implementation, having a solid sales process in place will surely prove to be beneficial. Brian also helped us to better understand the 'ins and outs' of the CRM implementation process." – Scott Schoepf, vice president of sales and marketing, Triad Technologies

"Brian Gardner was very helpful in our assessment of readiness for CRM implementation. In addition to providing insights to the potential pitfalls of implementation, he helped our team understand the metrics that evaluate and measure the ROI obtained from CRM, and management commitment required to change the way that our organization works. As a result, we can better deliver value to our customers while improving our sales and marketing productivity." – Wallace Lueders, director of business development, REXA Inc.

"We engaged Brian Gardner of SalesProcess360 to provide my company Allied Automation a CRM Audit. I've known Brian for a few years and first met him at AHTD, the Association for High Technology Distribution. We shared our experiences in technical sales and sales management. I was intrigued with his experience and approach to managing the sales process and developing and implementing strategies for optimizing CRM systems which are generally underutilized and thus underappreciated. During the audit, Brian was very thorough and quickly understood our company culture, people and processes. He helped focus our experience and efforts where they would be most effective and develop a sales process to report and manage our sales activities in relevant and simple terms through dashboards that could be tailored to the needs of all involved. It is critical to design and manage the sales process at the beginning to ensure the sales results that you have targeted. We benefitted greatly from Brian's observations and recommendations, and look forward to staying engaged with him." – Greg Dill, President, Allied Automation
---
Whether you are just getting started on CRM or already have CRM and want to get ROI, we can help. Invite SalesProcess360 to start the process off right with a CRM Audit.
Interested in learning more? Call or email us today to learn more or to get started:
Or let us know how to contact you. Click here: Yes, I'm interested! Contact me about the CRM Audit.