On this blog, we've covered 10 of the most common reasons that CRM fails – or isn't as successful as it could be. Those include a murky management vision, not getting your top guns involved, trying to do too much too soon rather than easing into the new system, and not understanding the Total Cost of Ownership, including training requirements, from the start. (Read more about common reasons CRM fails.)
But every company has its own Achilles heel. What are your company's specific speedbumps to success in CRM? Some may overlap with the most common reasons, but there may be other challenges your company faces that are unique to how you do business.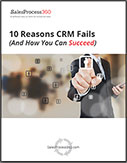 Before downloading and reading this SalesProcess360 whitepaper, 10 Reasons CRM Fails (and How You Can Succeed), do a self-analysis. What are your company's top five or 10 reasons? Be honest. Identify your stumbling blocks, as well as where you'll reap real returns as a result of addressing those challenges.
Many companies find they don't get what they want out of a CRM system. I've seen this in my work with distributors, reps and manufacturers, and I've heard it from many professionals at industry events. But if you start with a real picture of where are you are now, setting the stage for where you want to be, your chances of success will rise.
My new book, ROI from CRM, is now available from Modern Distribution Management. Learn more about the book or order now.